Screw conveyors and screw conveyors
Customized plastic screw conveyors and screw conveyors
With Wefapress at your side, you have an experienced partner who specializes in the production of plastic transport and screw conveyors. We offer you solutions from a single source – from the production of the plastic, through consulting in design and development, to the finished, functional conveyor and transport screw made of plastic.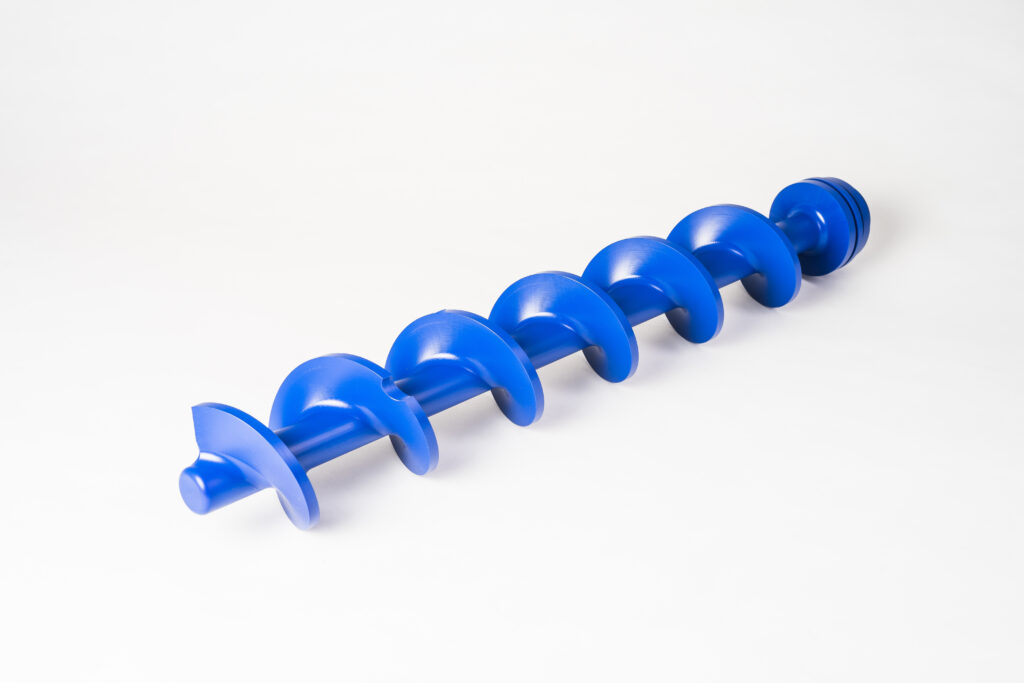 Unique manufacturing processes
Thanks to our extensive machinery, we can manufacture plastic transport and conveying screws in lengths of up to 4,000 mm from a single piece. You have the choice between different thermoplastics such as PE-UHMW / St 1000®, POM, PA or others, which are available in pure or modified form in an extensive range of colors for your conveyor systems.
Advantages of plastic screws
Plastic screw conveyors and screw conveyors offer many advantages and are an excellent solution for the individual and safe transport of goods. They are lighter and quieter than metal screws, easy to clean and have excellent sliding properties. In addition, they are impact and abrasion resistant and have high notched impact strength, which ensures a longer service life.
Our plastic screw conveyors and screw conveyors ensure a steady, accurate, fast and gentle guidance of your products to increase your production output. We manufacture screw conveyors for transporting, compacting or dosing bulk material as well as screw conveyors for separating, positioning, turning or grouping piece goods. With the help of our modern CAD/CAM system and self-developed programs, we are able to quickly and individually design and manufacture plastic transport and screw conveyors according to your requirements.
Do you have questions or need more information? We are here for you personally and look forward to hearing from you.